Sightseeing Now !!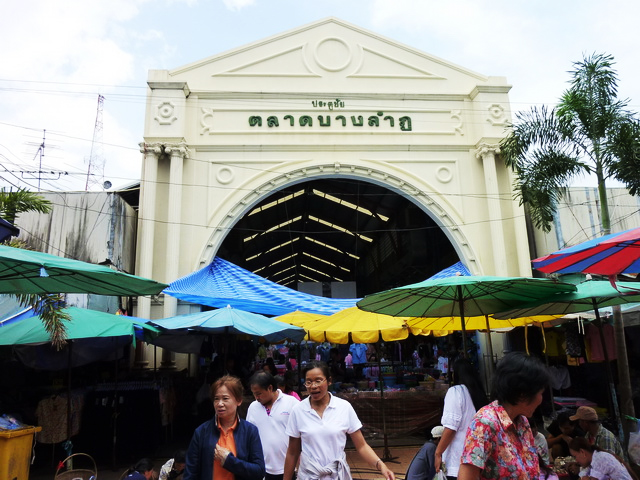 Bang Lam Phu Market
This small marketplace has served the community around Wat Chanasongkram since the period of King Rama III. Banglamphu Market spans Phra Sumen and Chakrapong Roads, and is frequented by traders ranging from street vendors, hawkers and stall owners to retail shops and department stores. All kinds of inexpensive items can be found including clothing, leather goods, footwear, cosmetics and curios. It's proximity to Khao San Road makes it easily accessible, and bargaining is recommended.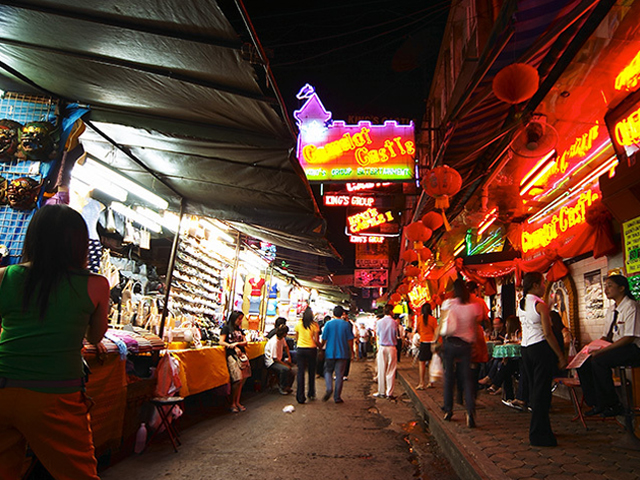 Patpong Night Market
This is for hardcore hagglers who love bickering amid makeshift stalls crammed together and lit up with bulbs on the end of extension cords. There are so many vendors, they spill out onto Silom Road making the footpath impass You'll find everything on Patpong...and more: souvenirs, football jerseys. knock-off designer shirts. DVDs, watches, knickknac cheap denim, perfume, sunglasses and an exhausting range of utterly useless gadgets. Try to get the vendor to name the starting price or you're doomed, but it's all in good fun, as you're generally not talking about a fortune. And for the curious, a peek inside a go-go bar reveals middle-aged men ogling upcountry girls wearing bathing suits and trying to dance to heavy metal.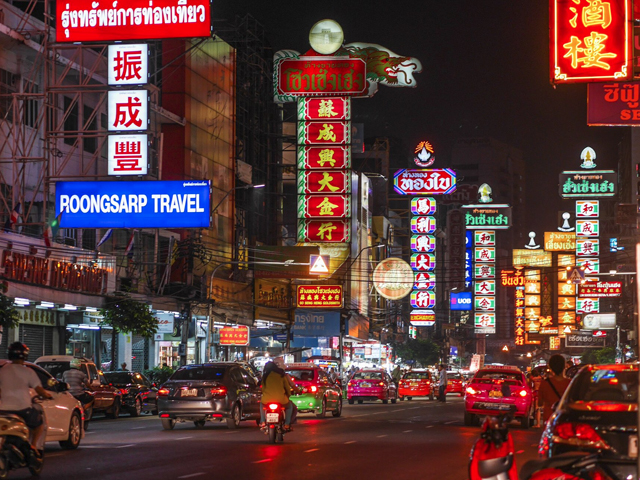 China Town (Yaowaraj)
Lying south of Dusit and Banglamphu, Chinatown is one of the oldest areas of Bangkok Chinese merchants were originally moved to this area in the early 1780's when Bangkok was founded. In this chaotic area, the hustle and bustle of Chinese hawkers, vendors and peddlers will amaze you as you browse through the shops and market stalls. The area is known for its variety in traditional Chinese herbs, medicines, gold shops and textiles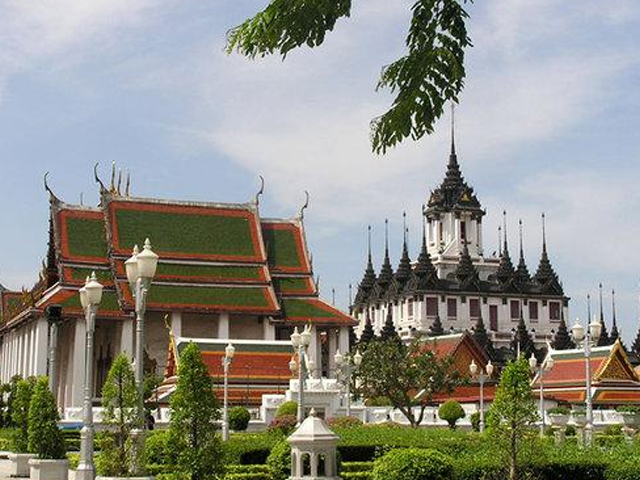 Wat Ratchanatdaram Worawihan
This temple was originally called Mat Ban Phrayakrai Suanluang'. King Rama IX ordered its construction as a gift to HRH Prince Apsornsudadhep.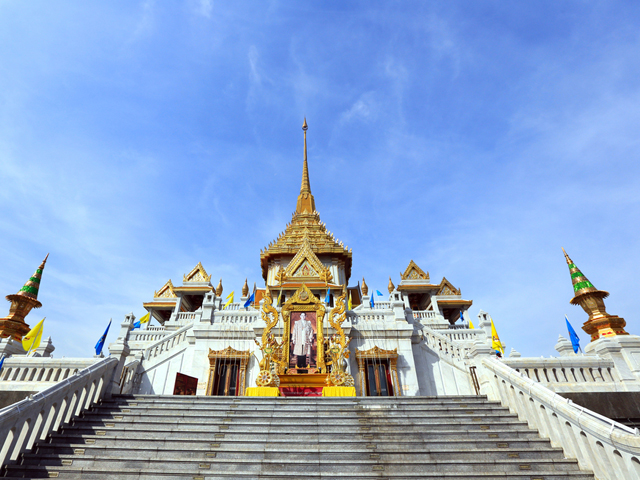 Wat Trimitwitthayarm
Formerly called Wat Samjeentai, this temple was built by three Chinese comrades around 150 years ago. It was restored in 1937 and granted the new name of Wat Trimitthayaram. The main attraction of the temple is the five-ton. three-metre tall Sukhothaistyle Buddha image in the Subduing Mara position made of solid gold known as the Golden Buddha. The image was once believed to be of ordinary stucco until it fell from a crane while being moved to a new building and the gold inside was revealed. The theory is that the covering was a means of protecting it from the Burmese while the capital of Ayutthaya was under siege.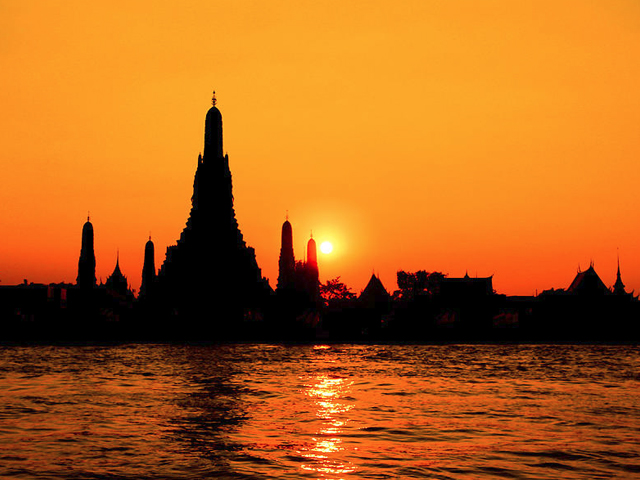 Temple of Dawn
One of the older temples in Bangkok, Wat Arun is clearly visible across the Chao Phraya river almost opposite the Grand Palace. Wat Arun was the royal temple of King Taksin during the Thonburi period. The pagoda, 79 m high, covered with multicoloured glass and Chinese porcelain embedded in cement, provides a beautiful view of Wat Arun from the Bangkok side of the river at sunset.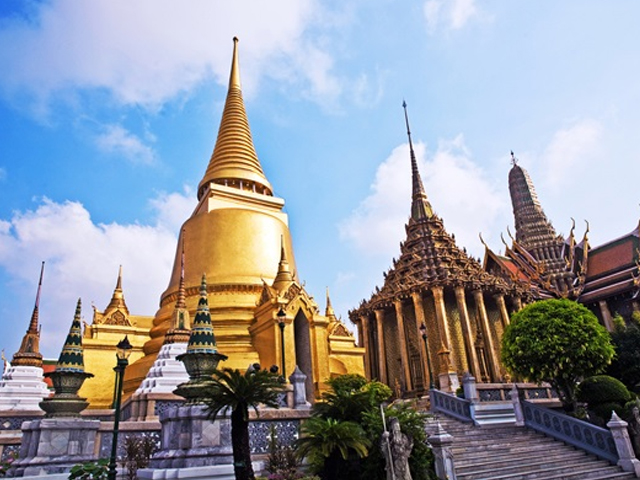 Temple of the Emerald Buddha
The most spectacular Buddhist architecture is found at Bangkok's Wat Phra Kaeo (Temple of the Emerald Buddha), which contains more exquisite carving and decoration per square centimetre than any comparable site in the world. The entire surrounding cloister is covered with a mural depicting the Ramakien, wherein demons swallow armies, gods fly in celestial chariots and monkey warriors slink past sleeping demon guards. Marble slabs adorning pillars in front of the paintings bear poetic descriptions of each episode. Wat Phra Kaeo was founded by King Rama I, the first king of the present dynasty. The temple is renowned as the most beautiful and important Buddhist temple in Thailand and houses Phra Kaew Morakot, the highly revered Buddha image carved from a single block of fine jade.
Wat Suthat Thepwararam
Constructed between 1824 and 1851, Wat Suthat is admired for its beautiful murals and its collection of gilded Buddha images, including one immense seated Sukhothai Buddha image. The enormous "bot" (ordination hall) is said to be the tallest in Bangkok. The Giant Swing facing Wat Suthat is a relic of a unique Brahminic ceremony.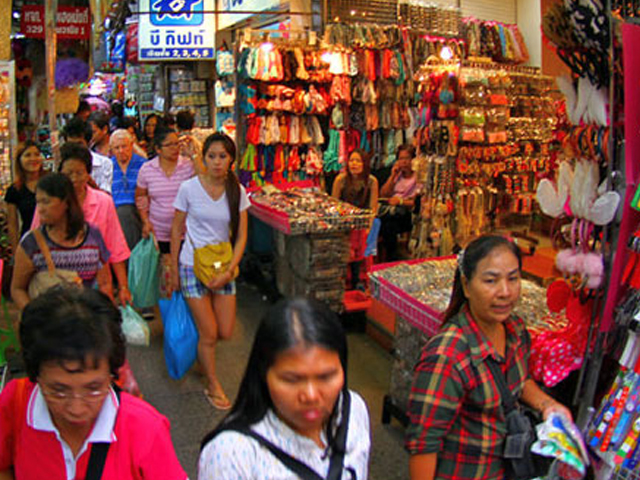 Sampeng Lane
Located at the east end of Phahurat Road on narrow Soi Vanit 1 in Chinatown. you'll find the beginning of Sampeng Market, which is one of Bangkok's biggest and oldest markets for textiles and clothina. Even if you're not in the mood to buy, a walk through the market is well worth the visit. The area has a colourful history of opium dens, prostitution, gang wars and murders, and though it is much less dangerous today, shoppers must still be careful of pickpockets.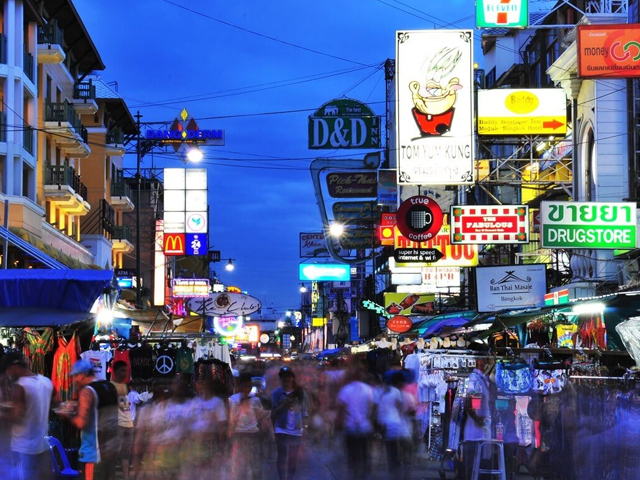 Khao San Road
is a never-ending hive of activity. Street vendors and shops line either side of the strip where you can find everything from used books, fisherman's pants and handicrafts to tattoo parlours and travel agencies. Khao San also has loads of guesthouses, some of which could be called three-star boutique hotels. And in front of each are tables to grab a meal or a cold drink and watch the world go by. There's always plenty of good traveller conversation to be had, and at night, the place really rocks.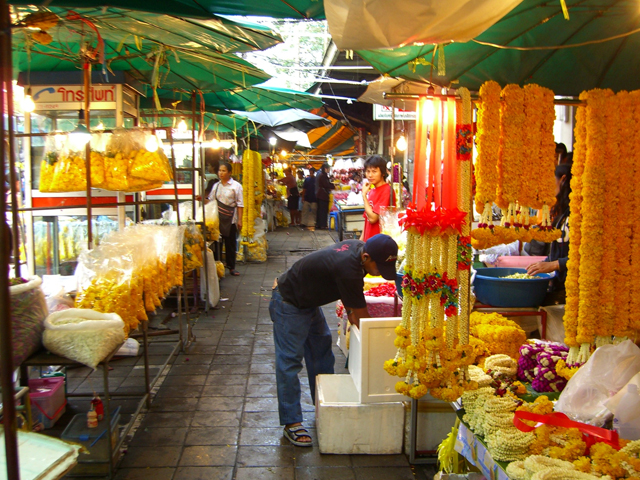 Pak Klong Talad
The 24-hour Pak Klong Talad runs along the Chao Phraya River from the Memorial Bridge to the Pak Klong Talad Pier. It is known mostly as a wholesale flower market serving everyone from flower vendors to florists, but it also has a good selection of fresh vegetables, which are bought in the pre-dawn hours to be transported to neighbourhood markets around Bangkok for sale in the morning. If you really want to see Thai commerce, arrive between 2:00 and 4:00 in the morning!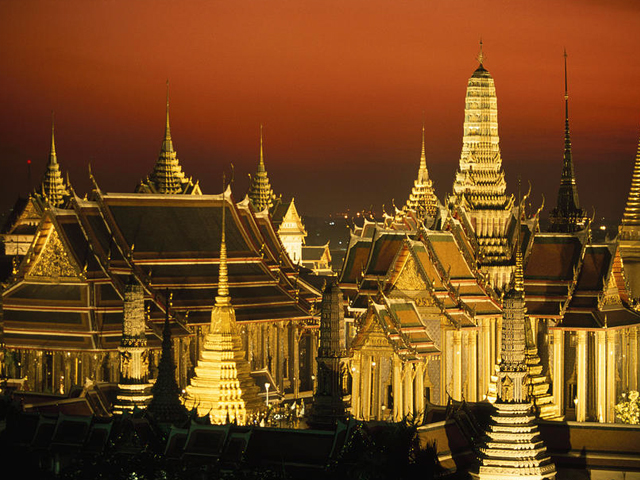 The Grand Palace
One of the most visited attractions in Bangkok is the Grand Palace, which is a complex of many buildings dating from 1782 to the late 19th century. The huge compound of the Grand Palace, that includes Wat Phra Kaeo, is enclosed by a high fortress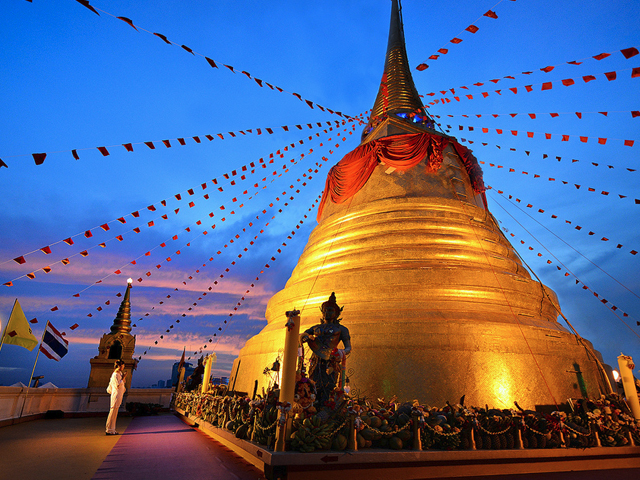 The Golden Mount
Is a major landmark of Bangkok which houses the sacred ashes of Gautama Buddha, which were brought from India in 1899. Wat Saket is situated at the bottom of the Mount. The panoramic view of Bangkok is rewarding after climbing 318 steps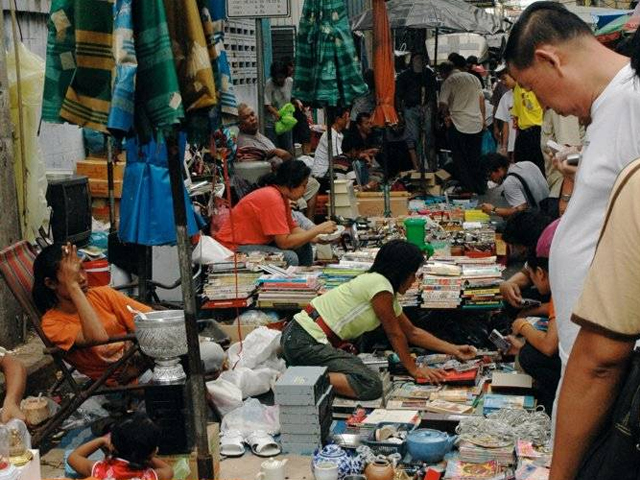 Thieves Market
This unusual market, also called Nakhon Kasem, is located on Charoen Krung off Chakkrawat and Chrakkraphet Roads and not far from Wat Po. Many vendors carry the same goods as other markets, though there are many curios to be found here. Shoppers will come across old records and Thai musical instruments such as a zither, sawuu, chakes and a ranat. Other items include ship lamps, wicker chairs, clocks and amulets. Some date back to the 1800s, but don't rely on the seller's word.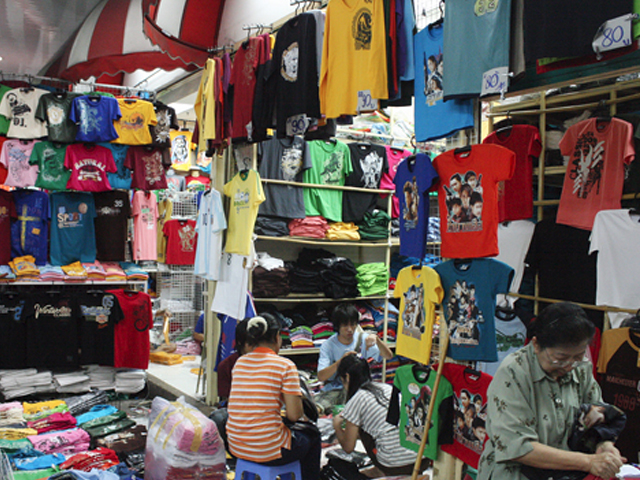 Bo-Bae Market
is located on Krung Kasem Road, and is one of the most famous...and largest wholesale and retail markets in Bangkok for ready-made clothes, textiles and jewellery at very low prices. Said to have revolutionised the wholesale garment business in the city, the market has grown to 700 shops, all under one roof, and contains some of the best bargains in Bangkok.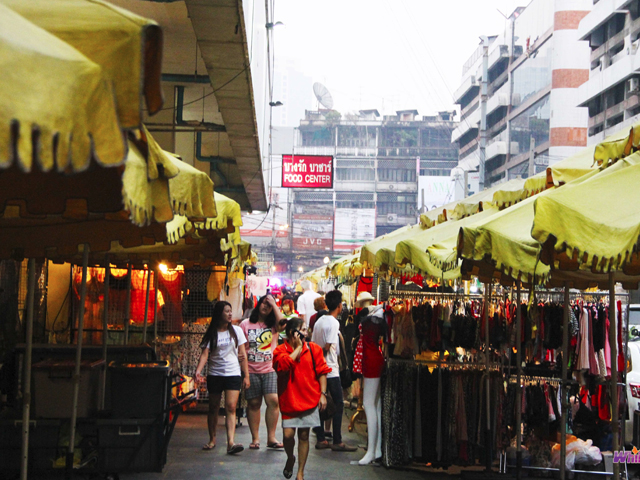 Bangrak Market
Located on Charoen Krung (New Road), this bustling market sells mostly fresh flowers for all occasions at wholesale or retail prices. The market offers a huge selection of cut flowers and orchids, including lovely garlands of sweet-smelling jasmine. The Bangrak Market also serves as a wet market, with plenty of food items available. While there, sample the Volcanic Fried Oyster Omelette at a shop on the southern end of the market that has been making this dish for more than 20 years. BTS : Saphan Taksin Station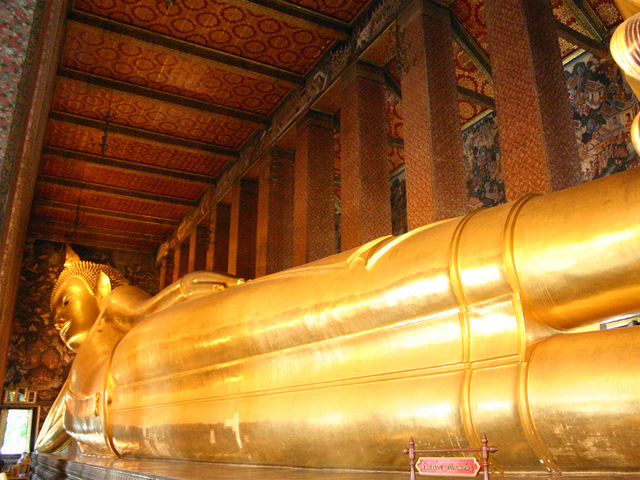 Temple of the Reclining Buddha
Wat Pho, one of the oldest and largest temples, is also known as Wat Chetuphon. The temple was built by King Rama I two hundred years ago to provide public education on literature, archaeology, astrology and medicine. The temple compound holds many different attractions. The major attraction is the 46 m long and 15 m high gold-plated Reclining Buddha with feet inlaid with mother of pearl, depicting the 108 signs of the Buddha. The headquarters for the Traditional Medicine Practitioners of Bangkok is situated at the temple. Various ailments and methods of massage and meditation are inscribed on stone plaques in the beautiful grounds of Wat Pho. Wat Pho epitomises the ideal Thai monastery wherein the religious, spiritual and educational harmoniously coexist. Often referred to as 'Thailand's first university', Wat Pho's researched information is available on yoga. therapeutic massage, clinical explanations of anatomical ailments and traditional Thai herbal-medicinal treatment, meditation techniques, astrology, literature, morality. military defence and archaeology.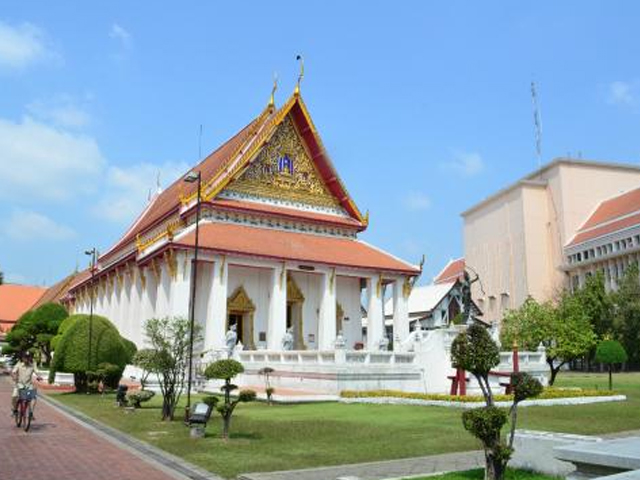 Bangkok National Museum
Closed Monday, Tuesday and National Holidays. Admission Fee: 40 Baht. Near the Royal field. Thammasat University and National Theatre. The Bangkok National Museum is dedicated to preserving the national cultural heritage through collections of art, archaeological and cultural objects in the Palace of Wang Na compound near the Grand Palace. The Gallery of Thai History is located in the Sivamok-Haphiman Hall, with the Prehistory Gallery at the rear of the building. The History of Art collection is displayed in the South and North Wings and the Minor arts, Royal Cremation Chariots and Ceremonial Objects are exhibited nearby in other buildings within the palace compound. Service: Guided Tours begin at 9:30am Wednesday-English, French, Japanese. Tuesday-English, German information leaflet.